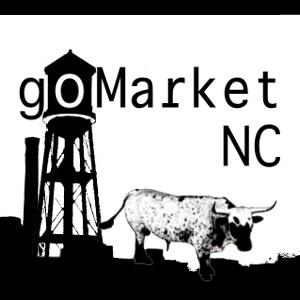 Dozens of farmers get turned away every year at traditional farmers' markets like the downtown Durham Farmers' Market — not because they aren't wanted, but simply because there isn't enough space.
goMarket offers a new solution to this problem: consider us a hybrid between a classic farmers' market and a cooperative grocery store that never gets too full. 
How We Do It
Farmers and other vendors post what they have available on goMarket's linked online marketplace, hosted by Open Food Network.
Buyers decide what they'd like, and shop online during the week.
goMarket sends the orders along to vendors (who can share, swap, or collaborate to fill demand), and arranges pick up and/or delivery for buyers on Thursdays.
Why It Works
Getting orders a couple of days in advance is a huge advantage to the farmer: now they can pick and deliver exactly what's already been ordered, reducing food waste and labor time.
And being able to shop online reduces the uncertainty of searching for items in local farmers' markets or co-ops, and makes it convenient to shop anytime buyers feel hungry.
To read more even more reasons why we think this market is important, read our founder's blog here.
Weekly timeline
Every weekend, farmers update their inventory, listing anything new they might have coming in and approximately how much is available.
Starting Sunday evening the customers shop the local market (here) and place orders by Tuesday at 8pm.
Wednesday and Thursday morning gives the farmers two days to pick and label everything.
The farmers then swing by Locopops, our drop-off/pickup location in Old West Durham.
We then put together your order, which you can pick up between Thursday between 4:30-6:30PM. It's kind of like a totally customizable CSA except you pick what goes in your box every week and you can easily shop more than one farm (and other local food artisans as well!).
Who came up with the "Online Farmers' Market" idea?
goMarket is built on top of the amazing software package, Locally Grown. Our founder, Eric Bowen, briefly used their flagship market, Athens Locally Grown, while serving as interim director and farm manager at Spring Valley Ecofarms, in Athens, GA. He was impressed by how much it helped his farm and other beginning farmers, so he decided bring the idea to his hometown of Durham, NC. We're excited about helping make it easier to shop local. The more people that support local farmers, the stronger our local economy will be, which can translate into a lot of jobs.
Are you open yet?
We sure are. For the foreseeable future all farmers and customers will deliver/pick-up (respectively) at Locopops on Hillsborough Rd in Old West Durham. Parking is available across the street at Grey Stone Baptist Church. Sign up here and consider becoming a member while memberships are on sale here for 15% off.

View Larger Map